Like breakfast comfort food?  How about cinnamon rolls?  I do too, however most breakfast comfort foods aren't very comforting for our figures or health.  My mom used to love Cinnabon cinnamon rolls.  It's hard to argue that they aren't tasty, however they pack a whopping 880 calories and 59 grams of sugar. And even though they make you feel good at the time,  ever notice how you feel about an hour later?  Tired, foggy headed and maybe a little cranky?
Calorie & Sugar Problem Solved
Won't go into all the science reasons, but there's a way you can still have all that cinnamon goodness without all the other crappy consequences.  The recipe below won't give you that bread like texture (the gluten in regular flour does that), but each warm bite will give you some comfort and also goes along very nicely with a good cup o Jo.
So check out my version of a classic breakfast comfort food Cinnamon buns…that's gluten free, grain free and contains just under 9g of sugar per serving.
Faux Cinnamon Buns (Gluten & Grain Free)
2 1/2 C Almond Meal Flour(1280 Kcal 140g Fat 60g Carbs 10g sugar)
2 Tsp Cinnamon
1/2 Tsp Baking Soda
1/4 Tsp Redmonds Real Salt (Sea Salt)
1/4 C Kerrygold Butter (440 kcal 44g Fat, 0 Carbs – 0g sugar &0g Protein)
1/4 C Coconut Oil (520 kcals 56g Fat, 0 Carbs, 0 sugar & 0 Protein)
1/2 C Pure Maple Syrup (400 Kcal 106g Carbs & 106g Sugar)
1Tsp Organic Vanilla Extract
3 Happy Eggs (Organic Range Eggs) (180 kcal's 12g Fat 1.5g Carbs 18g Protein)
Cinnamon Swirl
2 Tbsp Cinnamon
2Tbsp Organic Maple Syrup (100kcal, 13g carbs, 13g sugar)
1 Tbsp Coconut oil (melted) (130 kcal 14g fat, 0 carbs, 0 sugar, 0 protein)
1Tbsp Kerrigold Butter (melted) (110 kcal 11g fat, 0 carbs, 0 sugar, 0 protein)
Mix dry ingredients (almond flour, salt, cinnamon and baking soda) then melt butter and coconut oil and mix with room temp eggs, maple syrup and vanilla.  Mix wet ingredients into dry pour in parchment paper lined baking pan.  Melt butter and coconut oil for swirl and then mix in cinnamon and maple syrup in a separate small bowl.  Pour and swirl into pan similar to below.  Bake for about 30 min at 350 degrees.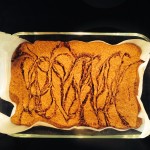 Here's the approximate nutritional info if you divide the pan into 12 servings
Total Kcals = 2650 (277g Fat, 191g , 168g Carbs, 119 g sugar & 29g protein) /12 = 220 kcal, 23g Fat, 14g Carbs, 9g sugar & 3g protein
Hope you enjoy this recipe!  If you do, please share it with a friend and share it on Face Book, Twitter, Pinterest or whatever you fav social media outlet is.